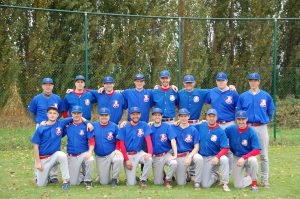 Baseball heren 1: 1BB
Nationale competitie in 1ste klasse. Spelen voor behoud in deze divisie olv Robin Meuris. Teamverantwoordelijke en hulpcoach: Loïc Daoudi.  Nieuwe spelers zonder baseballervaring zullen eerst naar het recreantenteam of tweede herenteam worden doorverwezen vanwege het niveauverschil.
Binnentraining dec-maart: za van 12h-15h
Buitentraining maart – sept: woe en vrij van 19h – donker
Telkens 2 wedstrijden op zaterdagnamiddag van april – sept.
Nog specifieke vragen over dit team, of wil je eens komen trainen? Mail dan naar info@gentkinghts.be.